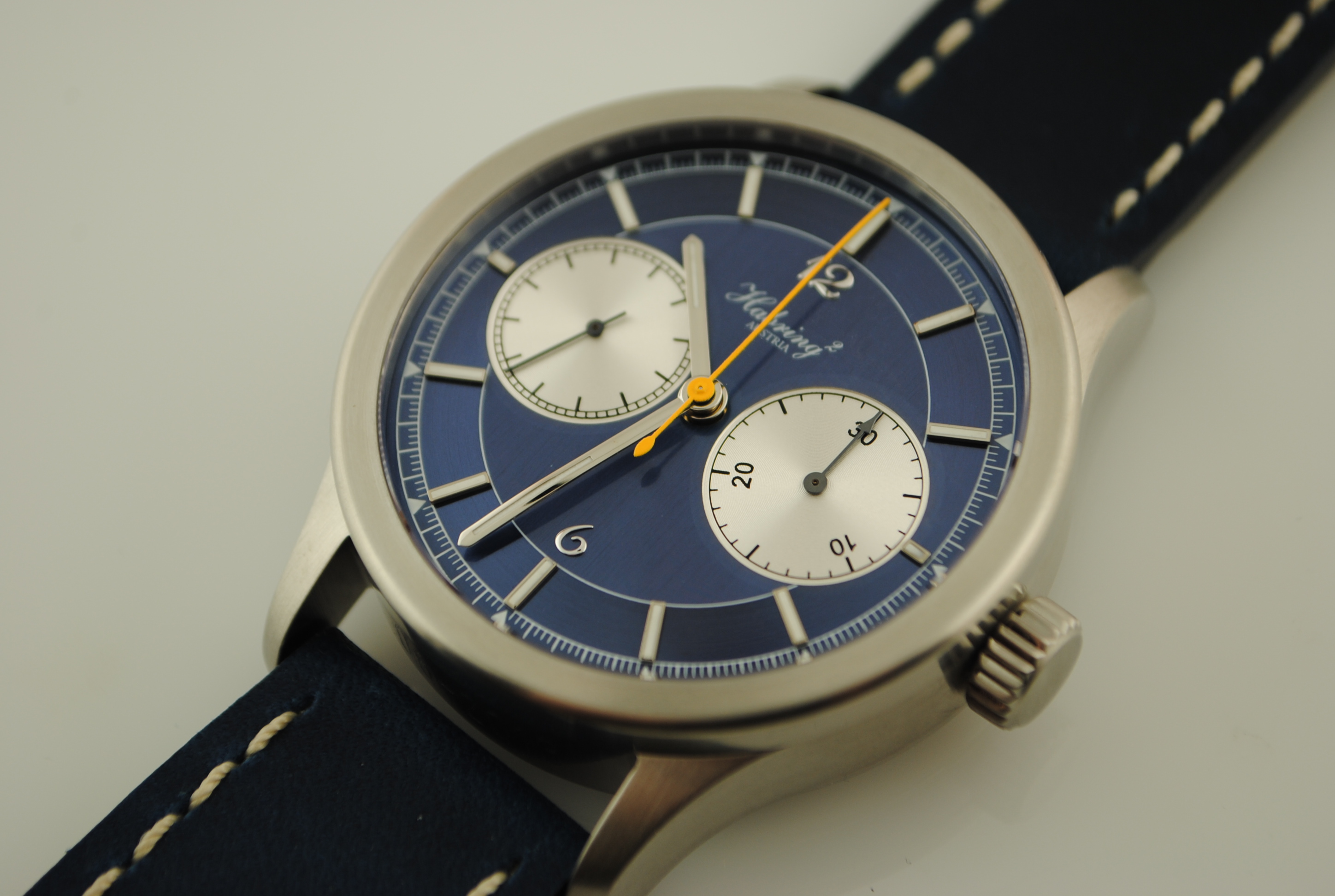 Doppel 2.0 Split Seconds Chronograph LINK-SOLD OUT
Doppel 3 Split Seconds Chronograph 2013 (LINK)
Maria and Richard Habring are Habring2. The only watch manufacture from the country of Austria. Maria and Richard are a husband and wife team that head up a small workshop, based in Volkermarkt, Austria, in Corinthia which is not far from the Slovenian border. Richard Habring designed movements and did conceptual development for larger corporate watch companies since the early 1990′s. Richard continues technical drawings and technical consultancy for other manufacture while continuing to produce watches under the Habring2 name. Maria is the managing director of Habring Uhrentechnik OG. Maria is responsible for design, customer services, consulting, quality control and after-sales service for reputable companies in the watch-making industry.
The watches produced by Habring2 are ranging with tremendous possibilities. The current base for the watches is a Valjoux, "Valgranges" series. The "Valgranges" series features an oversized balance and barrel. The "Valgranges" is two lignes larger than a standard Valjoux base and provides a very powerful base for Richard to incorporate modular complications. In fact, many of the modular complications may be retrofitted to an existing Habring2 over the course of a lifetime with the watch. A fact, that not many manufacture may claim. Richard's designs take a holistic approach to the process of manufacture. The designs eschew the classic watches of the 1950′s. Habring2 offers  a variety of watch types with traditional complications.  A simplistic approach to watches, which harkens the best of the past and instantly states classicism. The watches are available in 42mm case sizes, but with a few time variations now in 36mm cases as well. The classic dials feature applied markers and indices with many choices available to potential clients. Both the Habring's and Martin Pulli welcome the opportunity to develop and completely customize a watch of choice for any client. Contrary to the bulk of the watch industry, we are pleased when clients wish to have personalized watches for their collections. Have a look at some of the watches we have made for other clients or that may be in our current stock in the USA.
Habring2…anything is possible.
To substantiate our "Anything is possible." A client requested a COS Chronograph, with a Tourbillon. You ask and you will receive. The video below commemorates the "Schwingfest".
Schwingfest: Def. by Maria Habring-
"In Glashuette they call it "Schwingfest" when the balance oscillates the very first time.
Translated it might mean "oscillation celebration" – "swing party" "


Two great videos, in German, but even non-German speakers will enjoy the view!


The operation of the COS, crown operated chronograph

The amazing Foudroyante, with jumping seconds.

The 3D Tourbillon in action!